SUSTAINABILITY AT OCEM:
PART OF OUR DNA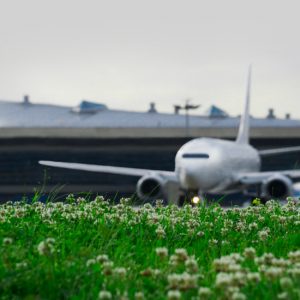 Besides making sure employees feel great working for our company, customers being well served and feeling good about collaborating with us and OCEM Airfield taking care to produce products and solutions which adopt the highest environmental standards, we also have a commitment towards our shareholders. A well-managed company is a financially healthy company that has the means to continue to invest in the development of first class products and solutions and hire the best aviation experts around. This is why OCEM Airfield strives to strike the right balance between the best price quality, great collaborators and healthy margins that guarantee the roll out of the company's long term strategy.
At OCEM we care for the communities we work in' by actively participating in community advancement programs in which we assume our local responsibility and community thinking. One of our programs includes – amongst others – hiring students so they can gain experience of what it means to work in the aviation industry.
Last but not least, we do not underestimate the importance of enjoying quality leisure time outside the office. Accordingly, some initiatives were implemented over time, and one of the most valued is the Opera Community Program. The latter involves the municipal theater – Teatro Comunale di Bologna – and provides free tickets to opera performances and symphonic concerts to our people and an a companion of their choice. We strongly believe that these activities contribute to further strengthen the sense of community and enrich our daily life.
We value sustainability in everything we do
Sustainability is part of our 5 values, made clear through our ISO 14001 commitment and certification, but it goes much wider than just that. OCEM Airfield has set out a clear policy on how it contributes to maintaining the highest sustainability standards in the industry. Management undertakes to support, disseminate and make our Sustainability Policy and our Policies for Quality and the Environment understandable, making them available to interested parties and promoting targeted training and engagement activities. It starts from a clear view on how we focus on sustainability from design to development, production to delivery and installation to after-sales. At OCEM Airfield we take sustainability seriously as outlined in the aspects below.
Safer Products
Safer products start in the design process where we look at how our products contribute to a safer and more sustainable world. Safer because of how they contribute to better visual guidance making sure pilots are guided safely throughout the landing and departure process but also as to how maintenance technicians and airfield staff operate these products safely.
Sustainable by design – Open standards
Whatever the product or solution, OCEM Airfield always follows the same design principles:
Reduce energy consumption, make sure that our products with every new or updated development, reduce energy consumption further. Whether they are our lights, power solutions or control systems. Our approach is to reduce energy consumption as much as possible and show customers how they can minimize energy consumption when operating or maintaining the products.
Recycle components. Even though OCEM Airfield works on improving the lifespan of a product, each product eventually reaches its end of life and needs to be replaced. The old product then needs to be recycled, but often this is not possible due to how products are designed and produced. This is why OCEM Airfield, from the design phase, starts planning how it can make sure every component of an OCEM product is easily recyclable so we can recover all materials as easily as possible and reduce the remaining waste to an absolute minimum. We avoid non-recyclable altogether.
Sustainable Supply Chain & Production. Our supply chain focuses on collaborating solely with suppliers that sign up to our environmental charter, allowing us to deliver products that comply fully with the ISO 14001 philosophy and ensuring efficient spare parts management for as long as the products are in service. Our production environment has a clear focus on adopting production measures that eliminate the use of dangerous substances, reduce and safely recycle waste, lower our energy consumption and guarantee safe and healthy working conditions.
Open standards. At OCEM Airfield we make sure that our products and solutions match international requirements which means products and solutions can interoperate with all other products following the same international standards. Not only does this guarantee perfect functioning of all products and solutions, but it is also the best way to make sure that you have the widest choice of solutions to choose from for your airfield. Proprietary products and solutions lock airports into specific solutions that cannot easily be swapped, thereby limiting their ability to replace the product or solution with a more price competitive one.