OCEM AIRFIELD INTRODUCES 

PRIME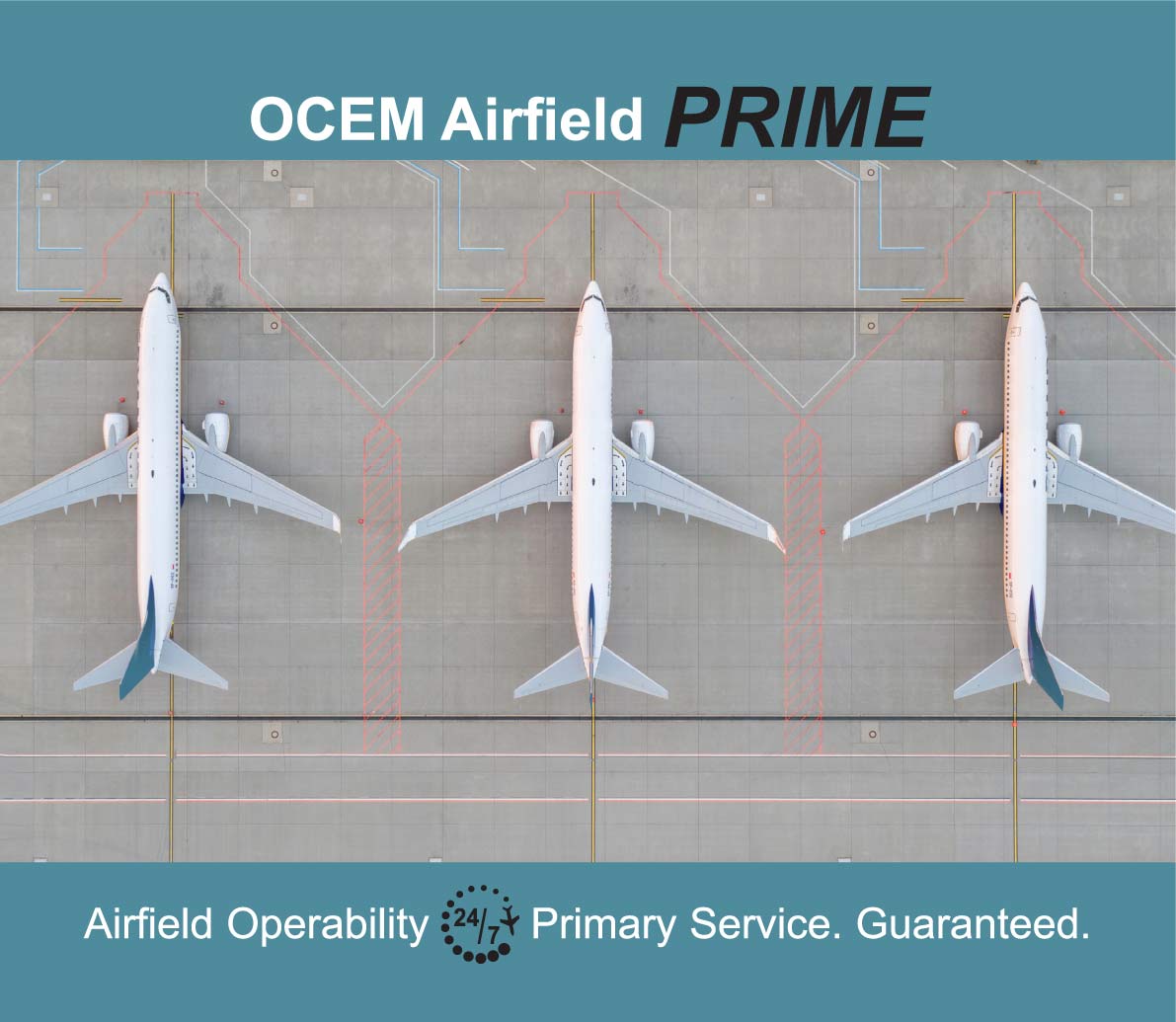 The always-on advantage for your airport
OCEM Airfield introduces PRIME, a unique service that guarantees 24/7 operations of your airfield by ensuring required spare parts delivery on time in any possible emergency.
Airport operations are time-critical – runways and taxiways need to be available 24×7 to accommodate traffic without delays. Maintenance has to be handled efficiently, as hours lost due to the closure of a runway or taxiway can strain airport operations and availability, leading to a substantial loss in revenues and, in some cases, even compensation payments to airport stakeholders.
Downtime is a considerable cost, and waiting to procure spare parts in an emergency is not an option. Enter OCEM Airfield's latest service offering – PRIME.
Customers subscribing to PRIME are guaranteed quick access to spare parts that OCEM Airfield stocks on their behalf.
PRIME also guarantees access to OCEM Airfield's valuable technical expertise via specially organized calls to discuss technical queries, how to best maintain an airfield, how to ensure 24/7 operations, the latest regulations, and so much more.
At an extra fee, the service PRIME Premium allows customers to enjoy OCEM's 24/7 augmented reality (AR) remote maintenance service that shares our best technicians with you when needed to help sort out an issue or solve a problem immediately.
Why your airport deserves PRIME?
When it comes to your airport operations, you don't want to take any risks. With PRIME, you get to:
Prevent shutdown

: Last-minute closures of runways or taxiways are a thing of the past with our 'always-there' insurance of critical spare parts delivered fast from our central warehouse.

Increase predictability

: Together with you, we revisit your needs for spare parts and any components critical for your business, establishing a list of items that can be called upon whenever needed.

Be always available

: You benefit from on-the-spot resolution with no unnecessary delays with the PRIME premium option.
Full 24/7 Operability? Go for PRIME Premium
When needed, we can extend PRIME with our Remote Maintenance offering – this PRIME premium service guarantees a ready stock of spare parts for all your emergencies. Over and above that, an OCEM in-house technical expert will be available for a call with your field technicians who, using augmented reality, display the problem in real-time for on-the-spot resolution: a unique combination, a special service further increasing the reliability of any airport operation.
Don't delay. Ask for a proposal today
Want to know more about PRIME and PRIME premium? Email us at services@ocem.com, and our Services Department will get back to you with a complete offer. Clear. Precise. Ready to Go.
With OCEM Airfield PRIME, guaranteeing 24/7 operability was never this easy
OCEM Airfield. Reliability Guaranteed.