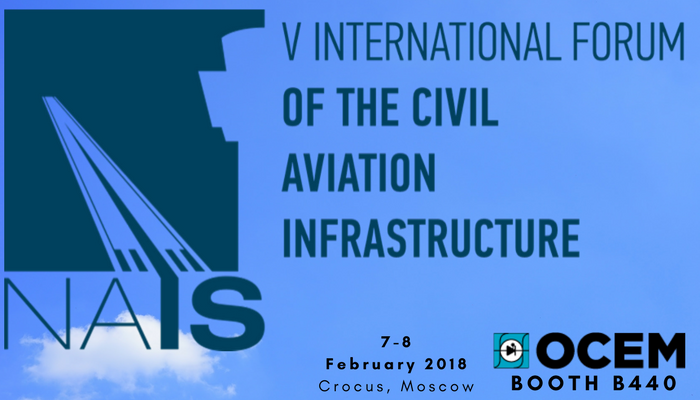 Meet us at Stand B440 in pavilion 2, hall 7
In one-week OCEM will be participating in NAIS, the key industry event in Russia and the Russian Commonwealth committed to civil aviation infrastructure.
Dedicated mainly to the Russian market, NAIS represents the nexus of civil aviation professionals, where manufacturers and suppliers meet representatives of airports, airlines and other air enterprises.
OCEM is a key player in ground lighting supply for Russia's airfield sector. It maintains a strong, consistent presence at NAIS to reinforce its network and display the high quality and the unique features that make OCEM's solutions the best choice for the Russian market.
OCEM believes in making it easy for our partners to interact with us by participating in specialized events and exhibitions. Last year the company was at NAIS Russia 2017, Inter Airport South East Asia 2017, World Atm Congress 2017, Airport Show 2017 and Inter Airport Europe 2017, collecting important contacts and launching strong new relationships that paved the way to become long-term partnerships and collaborations. OCEM is also committed to attend in several events in 2018 — NAIS is the first but not the only one! Check on our events calendar to discover where we will be next: https://ocem.com/events/.
OCEM's booth at NAIS, located at the Crocus Expo Center, will be on display in pavilion 2, Hall7, at stand B440 on February 7 and 8.
To schedule an appointment, please email marketing@ocem.com, and our marketing team will contact you as soon as possible.
We look forward to meeting you there!
OCEM
Lighting the future
ABOUT OCEM
OCEM Airfield Technology is a leading global airfield lighting provider with close to a century of experience in the airfield industry. It has supplied AGL solutions and systems to more than 1,150 airports and installed more than 235 airfield control monitoring systems worldwide. Based in Italy, together with Multi Electric (U.S.) and Augier (France), OCEM forms part of Aretè & Cocchi Technology, a holding group focused on high-tech businesses leading industrial fields.