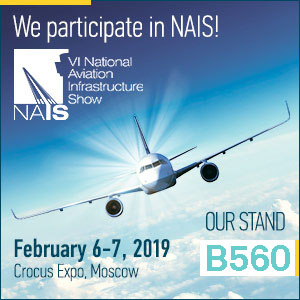 Every year the National Aviation Infrastructure Show (NAIS) is the most significant and influential event in Russia & the CIS dedicated to the development of airports, airlines and helicopter centres.
OCEM Airfield technology is pleased to confirm it will be participating again this year, and would like to cordially invite you to visit us a at stand B560.
The OCEM crew looks forward to sharing the latest news about our products portfolio, and to helping identify the best solutions tailored to your needs.
See you at NAIS Moscow on Feb. 6 and 7!
OCEM Airfield Technology
Lighting the future
ABOUT OCEM
OCEM Airfield Technology is a leading global airfield lighting provider with a century of experience in the airfield industry. It has supplied AGL solutions and systems to more than 1,150 airports and installed more than 235 airfield control monitoring systems worldwide. Based in Italy, together with Multi Electric (U.S.) and Augier (France), OCEM forms part of Aretè & Cocchi Technology, a holding group focused on high-tech businesses leading industrial fields.