PALS
Portable Airfield Lighting System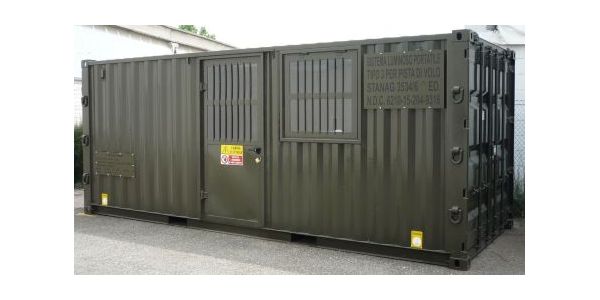 General Overview
The Portable Airfield Lighting System (PALS) developed by OCEM is conforming to Stanag 3534 Specs-TYPE 3, designed for runways of different length.
The system is provided for continuous operation, fed through constant current regulators and series circuits, and could be remote controlled by means of a wireless computerized system.
The system is easily transportable housed inside containers transportable by trucks and/or aircrafts.
Inside the container the equipment are stowed in wooden boxes, easily lifting by hand. The accessories necessary for the fixation of the fittings to the ground are contained in one metallic box only.
The cable leads are wound on suitable steel spools, which can be stowed one over the other.
The constant current regulators are contained inside a cabinet with control board. Suitable versions with single constant current regulators and separated control board are available.
The installation is very quick because each light fitting includes the isolating transformers and all the cable leads are provided with moulded FAA L-823 connectors.
Portable System Main Components
The Portable Airfield Lighting System (PALS) developed by OCEM includes the following portable lighting and equipment:
Containers for Portable System transportation
Approach lights unidirectional FAU-AC-065
PAPI (Precision Approach Path Indicator) system 401M
Runway edge lights bidirectional FP150-CC
Threshold lights unidirectional FAU-TG
Runway End lights unidirectional FAU-ER
Taxiway Edge lights VC30T
Arrester Cable Signs unidirectional SDSB1-1
Lighted Wind Cone MV400-L
Set of equipment and tools for the regulation of
approach/runway fittings
Series cable, supplied in suitable leads with connectors
Constant current regulator cabinet
Remote Control System
Spools for series cable
Wooden boxes for lights
Wooden box for regulation equipment and tools
Metallic boxes for anchoring stakes and poles