LIRH
LED Inset Threshold/End Light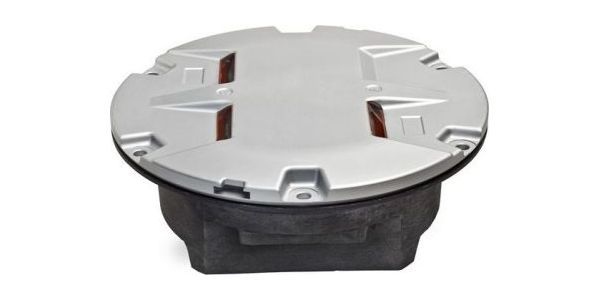 COMPLIANT with the Current Edition of the following Specs:
ICAO: Annex 14 – Volume I
IEC: TS 61827
FAA: L-850D AC150/5345-46 and "Engineering Brief No.67"
NATO: STANAG 3316
DIMENSIONS:
Diameter: 12″
Protrusion: 6.3 mm
Fixture Depth: 119 mm
Base Depth: 150 mm
CONSUMPTIONS:
Threshold Green FAA: 22 VA
Threshold/End Green/Red FAA: 40 VA (1 plug) / 40 VA (2 plugs)
Threshold/End Green/Red ICAO: 54 VA (1 plug) / 54 VA (2 plugs)
MAIN OPTIONS:
Arctic Kit: electric device, thermostatically controlled, that heats the area near the prisms (inset fixtures) or the external glass lens (elevated fixtures) favoring the melting of the ice and/or snow; thus avoids the light beam obstruction with a behaviour similar to a traditional halogen lamp. 40 VA per plug.
Monitoring: electronic device that returns information of open circuit at the secondary of the isolation transformer in case of failure of a luminous LED source or control board.