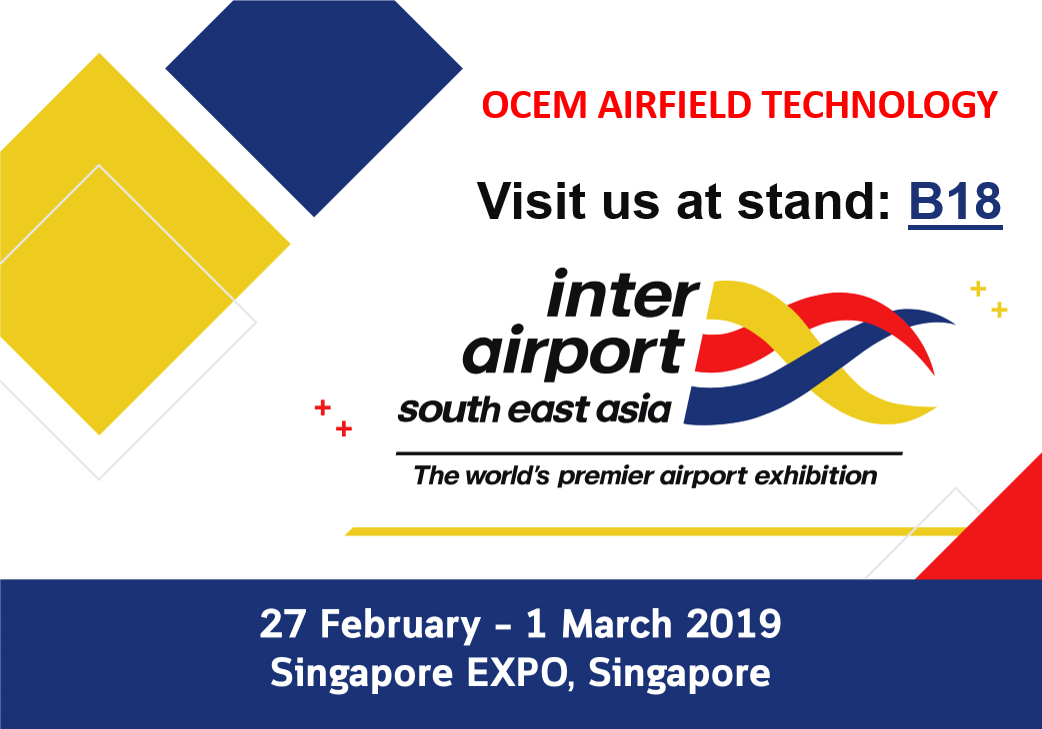 We're happy to announce that OCEM Airfield Technology will be in Singapore from February 27th to March 1st at Inter Airport South East Asia Edition.
Inter Airport South East Asia 2019 — the International Exhibition for Airport Equipment, Technology, Design & Services — offers a vision of building better airports in Southeast Asia.
The event has a proven record as an effective networking platform for airport suppliers and buyers across the region. Impressive industry participation has made it the region's premier airport exhibition.
As a global company and market leader in AGL products, OCEM proudly participates in aviation events around the world that support airport customers, designers and regulators. Join OCEM at Inter Airport South East Asia, where we will showcase and explain first-hand the unique design and manufacturing advantages of our Airfield Lighting products.
For more details about Inter Airport South East Asia please click: >>> https://interairport-southeastasia.com/english/
Register online for free and avoid the 50 SGD walk-in fee! >>> https://rpg.infosalons.com.au/INTERAIRPORT19SI/
OCEM Airfield Technology
Lighting the future
ABOUT OCEM
OCEM Airfield Technology is a leading global airfield lighting provider with a century of experience in the airfield industry. It has supplied AGL solutions and systems to more than 1,150 airports and installed more than 235 airfield control monitoring systems worldwide. Based in Italy, together with Multi Electric (U.S.) and Augier (France), OCEM forms part of Aretè & Cocchi Technology, a holding group focused on high-tech businesses leading industrial fields.