OCEM Airfield Technology was chosen to provide the heliport lighting signals for the most important summit of 2017
OCEM Airfield Technology played a key role in this year's G7 summit in Taormina, Sicily, supplying lighting signals and control and monitoring systems to the two heliports constructed specially for the event.
This year Italy holds the rotating G7 presidency and chose Taormina to host the summit, which is attended by the heads of government of seven of the world's most advanced economies.
Taormina prepared for their arrival by constructing two heliports in Piscina and Piano Porto. OCEM collaborated with the Italian military to fully supply the two heliports and their associated parking areas with LED and PAPI lighting signals, plus state-of-the-art CCRs.
The summit was a success, with the helicopters carrying the G7 leaders landing and taking off seamlessly — and offering yet another success story to distinguish OCEM as a trusted partner in airfield ground lighting.
For design, supply and installation of airport and heliport full lighting systems, email us at marketing@ocem.com.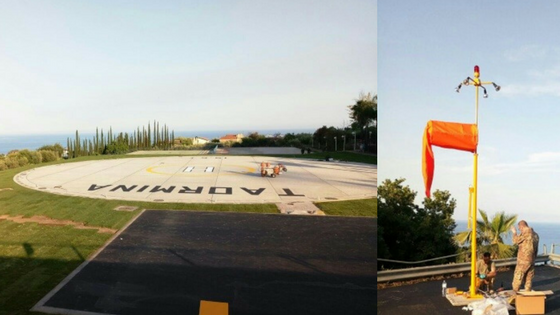 OCEM Airfield Technology
Lighting the future
ABOUT OCEM
OCEM Airfield Technology is a leading global airfield lighting provider with close to a century of experience in the airfield industry. Based in Bologna, Italy, it has supplied AGL solutions and systems to more than 1,100 airports on six continents, and has installed more than 100 airfield control monitoring systems worldwide.
Together with its associate companies Multi Electric (U.S.) and Augier (France), OCEM is part of Aretè & Cocchi Technology, a holding group that is active in advanced industrial technology fields.