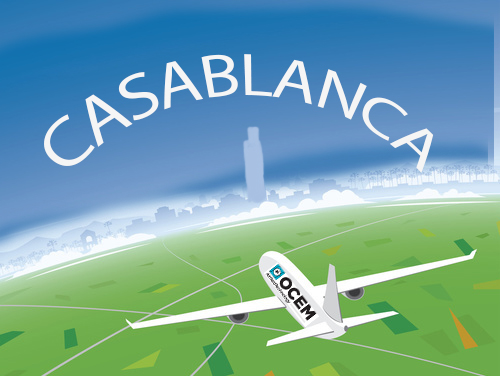 The Italian company is refurbishing one of the runways at Morocco's Casablanca Mohammed V International Airport
OCEM Airfield Technology is supplying LED lighting signals and power system to the busiest airport in Morocco and second busiest in Northern Africa: Casablanca Mohammed V International.
The Italian company is fully refurbishing a CAT III runway, including the approach area, replacing Casablanca's existing airfield ground lighting with long-lasting, energy-efficient LED lighting signals.
Casablanca Mohammed V is Morocco's busiest airport, accommodating more than 8 million passengers and servicing about 100 destinations each year. It is the home base for Royal Air Maroc, Morocco's national airline, and is second in Northern Africa only to Cairo International in terms of size.
OCEM has decades of experience in Morocco. Most recently, it supplied runway lights, taxiway lights, LED signs and CCR controllers to Al Massira Airport in Agadir and Rabat-Salé Airport in Rabat, as well as for Saïs Airport in Fez.
OCEM is an experienced global partner with more than 1,100 halogen and LED lighting installations in airports worldwide. To find out if OCEM's products are right for you, contact a regional sales specialist today.
OCEM Airfield Technology
Lighting the future
ABOUT OCEM
OCEM Airfield Technology is a leading global airfield lighting provider with close to a century of experience in the airfield industry. It has supplied AGL solutions and systems to more than 1,100 airports on six continents and has installed more than 200 airfield control monitoring systems worldwide. Headquartered in Italy, OCEM has production activity in Italy (Bologna), the U.S. (Chicago), France (Nice) and China (Suzhou), and sales and technical support in South Korea, India, China, the UK, Italy, France, U.S., Mexico and Brazil.
Together with Multi Electric (U.S.) and Augier (France), OCEM forms part of Aretè & Cocchi Technology, a holding group focused on high-tech businesses leading industrial fields