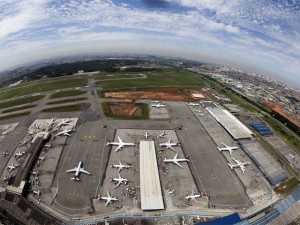 OCEM has supplied LED lights to the busiest runway in South America: São Paulo
OCEM Airfield Technology consolidates its presence in Brazil with a new relevant & global supply: thanks to the latest generation of LED solutions, the Italian group, leader in supplying Airfield Ground Lighting market, has supplied the new LED inset and elevated lights for the Guarulhous São Paulo International Airport (one of the busiest and most congested runways in South America).
OCEM is a focused player in the Airfield Ground Lighting market, highly oriented to technological innovation and service, with almost a century old history .
We are extremely pleased to have put an additional landmark in one of the most important airports in the world: the GRU São Paulo International Airport. This airport serves at least 3 million passengers per month and therefore mandates a guarantee of high safety levels. This will be possible thanks to our LED lightings signals, LERE (LED elevated runway edge and threshold/end lights), LIRE (LED inset runway edge lights) and LIRC (LED inset runway centerline and rapid taxiway indicator lights – R.E.T.I.L). These products, compared to the competition, offer outstanding performances in terms of durability, savings and internal solidity.
OCEM has recently opened a Sales & Technical Support Center in Mexico and has strengthened its presence in the Brazilian & South American territory.
At OCEM Airfield, we trust that our work in Brazil can help us expand our brand by bringing the latest LED technology to many other South American countries.
OCEM Airfield Technology
Lighting the future
ABOUT OCEM
OCEM is a focused player and an innovative leader in the Airfield Technology field with close to a 100- year history. It supplies more than 1000 airports and more than 100 Airfield Control Monitoring Systems, including also Augier Sas (France), MultiElectric (USA) and ITS (China).